Here you go ladies! If you're into fitness and firmer buttocks, inner thighs, and pelvic muscles, this Pelvic Muscle Hip Trainer is your new MUST-HAVE exercise equipment! It even helps to improve your posture if you spend a considerable amount of time sitting behind a desk or any other sedentary job.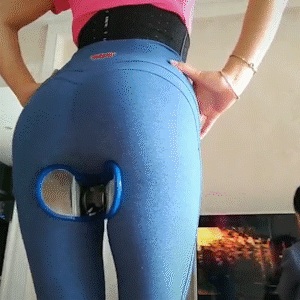 PRODUCT FEATURES:
Improve the blood system of lower limb muscles and buttocks. Super Kegel pelvic floor inner thigh training tool can improve the blood system of lower limb muscles and buttocks, make the hips and lower limbs more flexible and promote activities.
Conducive to pelvic reduction. Targeted pelvic floor muscle training, which is beneficial to pelvic reduction, strengthening pelvic floor muscles, walking hips.
Adjustable, small and portable. Adjustable elastic strength, strong elasticity, ergonomic design, comfortable and free, small size, can be carried with you.
Helps slim and tighten thighs, buttocks and lower abdominal muscles. Fengtocks, fitness equipment, fitness, health massage, home fitness equipment.
Treats weakened pelvic muscles, ease incontinence and enhance intimacy. For men and women, women can have good hips, and men can promote sexual function and prevent sagging hips.
PRODUCT SPECIFICATIONS:
Material: ABS plastic
Color: Blue, Pink, Purple, Green
Gender: Men, women, unisex
Size: 23.5cm x 11cm x 15.5cm
PACKAGE INCLUDES:
1 x Hips Trainer
To achieve better pelvic floor strength, bladder control and self-confidence, simply use this exercise tool 3 times a week, for 3-5 minutes, each workout, concentrating on using the correct technique, while paying close attention to your muscle movements.

The Pelvic Muscle Hip Trainer is so easy to use! Simply stand or lie down, facing your exercise mat, with your arms extended and your palms or elbows down on the mat. Then put the Pelvic Muscle Hip Trainer 1-2 inches below your buttocks and open legs 40 degrees, then applying pressure with your inner thighs, squeeze. It's that easy!