Swim laps even in a small pool!
Easy installation, very practical for swimming training, ideal for small pools. 
The swimming elastic allows you to swim for fun or training, but also to walk in the water and do aquafitness.
With municipal swimming pools closed, you might think you have no choice but to splash around in your bathtub. that's without counting on the  
SWIN BELT.
SWIM WHEN YOU WANT
If you want to swim, take your SWIN BELT and get started . You can thus transform your original swimming pool into a municipal swimming pool , or avoid the long road that leads you to the lake for your long swim. Pretty cool!
INCREASES THE BENEFITS OF SWIMMING
The swimming elastic is one of the equipment of the perfect swimmer . It is often used by professional swimmers during their training, but nothing prevents a beginner or occasional swimmer from using it. The swimming elastic has many advantages. It not only improves your swimming power, but also allows you to swim effectively in a small pool .
EASY TO USE
It simply involves attaching the elastic to a 

fixed

 , solid point , such as the access ladder.

Put your belt 

around your waist

 . To swim the breaststroke or the crawl, position the ring (which connects the elastic to the belt) in the middle of the back.
NEOPRENE BELT
Composed of a neoprene belt and an elastic band (length 200 cm), it is the ideal system for aquatic activity in a 
small space
 .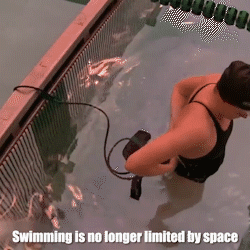 EXAMPLE OF ENDURANCE TRAINING USING A SWIMMING BELT:
Start with a 15 minute continuous swim at a constant speed.
Increase the total swimming time each week until you swim for 30 to 35 minutes.
When you have been swimming for 30 to 35 minutes, adjust your speed by starting slowly and gradually increasing the speed throughout the workout, the last five minutes being a very significant effort. 
Swimming belts can be used once a week for endurance swimming, or twice a week for speed training and endurance training.
IS THE SWIMMING BELT THE RIGHT TOOL FOR YOU? YOU MAY BE SURPRISED AT THE RESULTS. 
The SWIN BELT included: a 2m Latex elastic , a belt and a fastener.